GMGA Gray Barton Teams Day and Gollan-Hicks-Kelly Teams Event Mooroopna GC
Posted on: 14 April
---
Golf District Teams Event: 
Mooroopna take the double:
On Sunday the Goulburn Murray District Teams Event was held at Mooroopna Golf Club where the home teams were too good for the other twenty teams.  Both the women's and men's events honour Life Members of the District Association.   Faye Gollan, Iris Hicks and Joy Kelly for the women and Gray Barton for the men.
Mooroopna Women took both winners and runners up prizes in the Gollan-Hicks-Kelly Shield. 
 (L-R)Megan Carr, Julie Evans, Zoe Cortney, and Sonya Hill won with a team score of 139.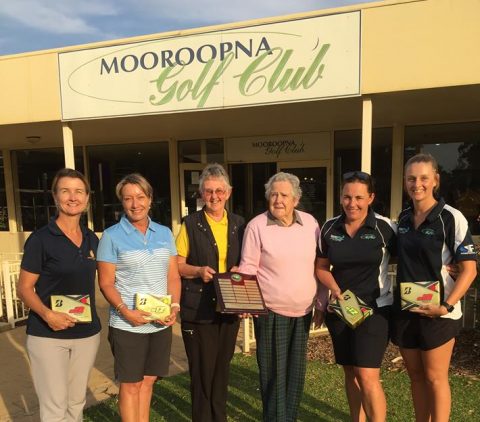 Winners pictured with Life Members Joy Kelly and Iris Hicks
Runners up-( L-R)Lorraine Smith. Marj Dodd, Di Maddill and Tanya Nightingale on 138 points. 
Individual prizes winners were for A grade Felicity Booth (Numurkah) 37 ahead of Jill Loversidge (Tocumwal) 36.  In B Grade Lyn McLean (Kyabram Parkland) 40 had a one shot win over Phyl Fidder (Hill Top Tatura) on 39. 
Nearest the pins went to Tracey Clouston (Numurkah) and Joan McAulliffe (Mooroopna) and balls down the line went to players from a variety of clubs in Renae Dickens,  Alison Keogh, Marg Henney, Sherryl Curran, Diance Duncan, Gail Bakke and Jill Sheedy
.
In the Men's Gray Barton Cup it was a Mooroopna team of Peter Van Teggelin, Wayne Tonkes, Jeremy Patt and Adrian Richards with 145 points who get bragging rights for a year.
Runners up: Hill Top team of Colin Barlow, Mike Jeffers, Steve Zolich and Jeff Huddle with 142 points who were runners up. 
Individual prize winners were  A grade Kelly Cheong (Rushworth) 41 with Rob Woodhaouse (Shepparton) 38.  In B Grade Jody Webber (Hill Top Tatura) 38 ahead of Paul Kuiper (Kyabram Valley View) 36. 
Nearest the pins went to Jeff Huddle (Hill Top) and Brendan Hosie (Numurkah) with balls down the line going to Geoff Hall, Martin Harper, Gary Hosie all on 37, Bryan Miller 36 and Bob I'anson and Graham Fostick 25.
Huge thanks must go to all those involved at Mooroopna Golf especially the grounds staff for the course preparation, Darren Rogers in the pro shop and clubhouse staff for drinks and catering.   President of Mooroopna Tony Barca opened presentations and received the thanks on behalf of his club.  To finalise the day GMGA President urged all players to enter the Mixed event to be played at Kyabram Valley View on Sunday 28 April.
---